Troyer's Trail Bologna
Troyer's Trail Bologna: Yaggi Cheese House Makes It Taste Even Better
Troyer's Genuine Trail Bologna, established in 1912, is one of the only local companies that has been in business as long as Yaggi Cheese House. Troyer's Trail Bologna is an all-beef meat product that is smoked over hickory wood much the same as it was one hundred years ago. Trail Bologna, when combined with cheese from Yaggi Cheese House, will send your taste buds on an adventure that you won't soon forget.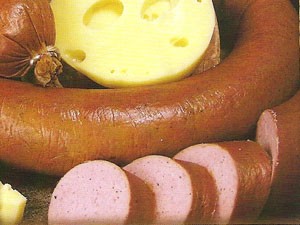 Some people might think that Trail Bologna was named after Trail, Ohio, the town in which it was produced. Actually, it was so named because it was food that was perfect for people to take with them while traveling. Troyer's Genuine Trail Bologna has a rich history, and almost every mention of their Trail Bologna on their website references how much better it is when paired with cheese. Yaggi Cheese House has been selling Trail Bologna for decades and pleasing palates of all types. When you add authentic, old-world style cheese to Trail Bologna the end result is an entire meal! It is usually accompanied by crackers that help hold the two elements of deliciousness together.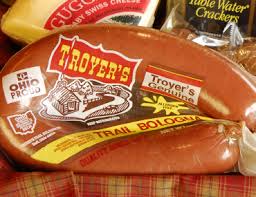 One bite of trail bologna and cheese and there is no turning back. And why would you? You should get a variety of cheeses from Yaggi Cheese House and experiment with flavor profiles that enhance the Trail Bologna experience. At Yaggi Cheese House you even have different flavors of Swiss cheese to choose from- mild, sharp, winter blend, and more.
Take some time out of your busy schedule and get out to Yaggi Cheese House to taste some authentic, well-aged cheese and pick up some Genuine Trail Bologna.
Yaggi Cheese House
They will make you smile and say "Cheese".